635-800A SYSTEM SERVER CONTROLLER
A high performance, compact 1U 19″ rackmount ruggedized PC system for system controller applications, controlling any size of NTP router system. The 635-800A controller is operated by the Router Control System RTOS QNX based software RCCore.
The NTP System Controller has a full compliment of PC features, including dual Ethernet for interconnection of two 635 System Controllers forming a redundant controller set-up. The 635 System Controller chassis has a modular construction, allowing the PC mother board to be easily replaced.
The Controller can be used stand alone or in a redundant configuration with two or more controllers active.
Key features:
Compact 1U 19″ rack mount PC system
Front panel LCD display for status readout
Designed for redundant controller set-up
Easy reconfiguration of PC mother board
Program executed from internal flash disc
Two Ethernet ports
635 System Controller
The 635 system controller is a PC platform for hosting the Router Control Application RCCoreV3, which serves as the control system for at NTP Router system. RCCoreV3 serves as the control application for both TDM router systems as well as IP Ethernet based systems.
RCCoreV3
The Router Control Core (RCCore) is a software application that handles all set-up, control, and supervision of the NTP
routers in an NTP audio router system, as well as the communication interface to the VMC and BLISS NTP control systems, and third part communication protocols.
RCCoreV3 is based on the self contained real-time operating system QNX Neutrino. The QNX Neutrino RTOS is extremely
reliable and is specially designed for critical industrial applications and superior embedded designs.
RCCoreV 3 runs on the 635 System Controller unit, which is often set-up in a redundant configuration. Two units forming a redundant main controller and two other units forming a redundant back-up controller.
RCCoreV3 hosted on the 635 controller can replace the DOS based Sys632 and the NTP 632 controller. The RCCoreV3 software operates through network based infrastructure with all communication based on TCP/IP link protocol, and 10/100Mbit LAN/WAN interfacing.
Router Control System features
Remote access and login on expert user level for:

Service, debug, and system set-up,
Upgrade of the RCCore, protocols and control applications.
Database management and secure access via VPN

Database backwards compatible
Database lies on the active controller and on the standby controllers. Database is always updated.
Maintenance application program window for inspecting system status
Control of IP audio based Layer 3 Ethernet based routing
Extended control of the router Dual Backbone interface
Future support for SNMP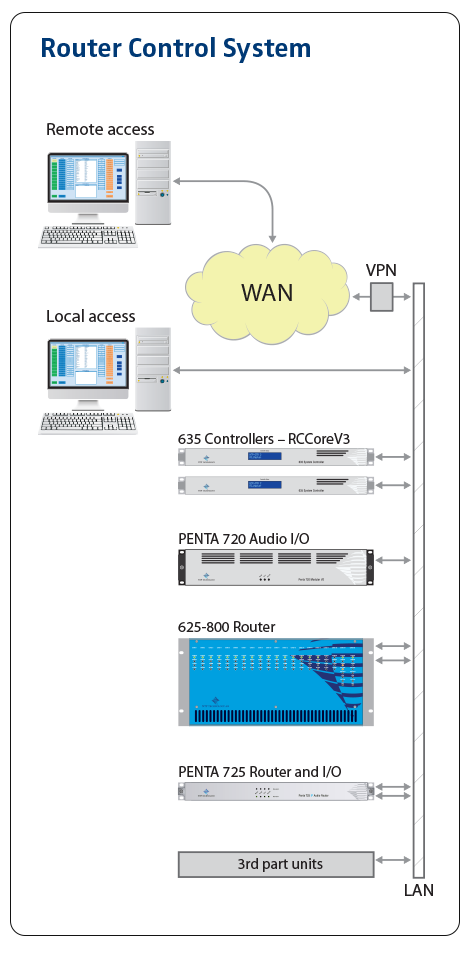 635 System Controller PDF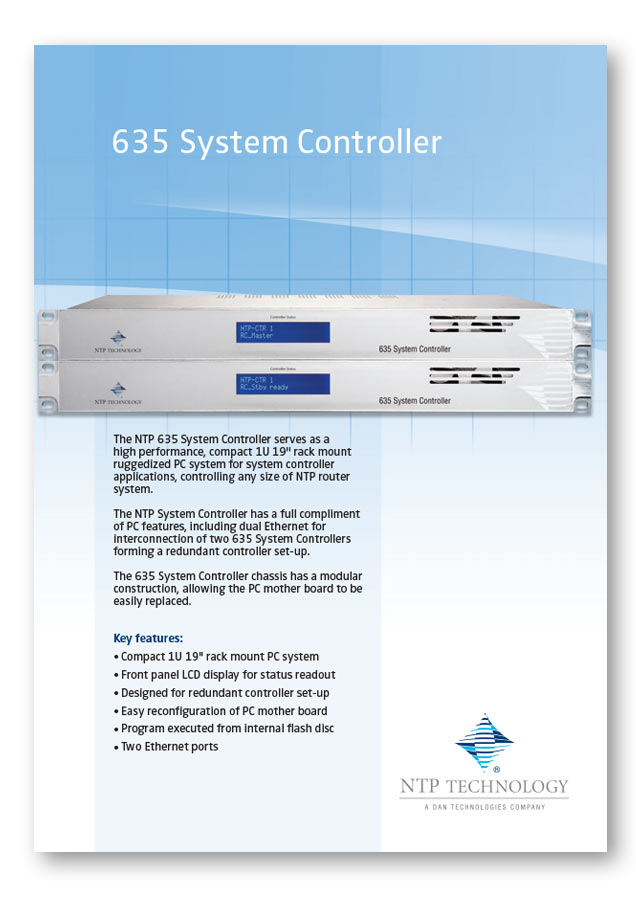 Router Control Software PDF